A marketing team is an integral part to many businesses. Whether big or small, a company that aims to expand its audience needs some form of marketing to conceptualize strategies that will meet the business goals of the company.
Of course, for every business, these goals can vary. For some businesses, they may want to focus on brand awareness if they are still aiming to build up their current audience. For others, they may want to increase their engagement with their customers with the hope of strengthening relationships.
For every business, having a diversified marketing plan is a great way to maximize your business's potential in capturing the attention of consumers. It is important to remember that there are many aspects of marketing, but this article will focus on social media marketing.
Last October, a study by Hootsuite and We Are Social found that 4.14 billion people now use social media. This figure means that more than half of the world's population is using the most popular social media networks. The same study found that Facebook still remains as the most used social media platform, followed by YouTube and WhatsApp.
The COVID-19 pandemic has accelerated the transition of many companies into going digital, as discussed in our previous blog about social commerce. But what this also means is that many companies are now realizing the unlocked potential in social media marketing for their businesses.
For companies that are exploring their options in social media marketing, the most important consideration is whether to hire a marketer internally within the company, or to hire externally by using the services of an agency.
Advantages of a Social Media Agency
Depending on the size of your business, it may determine whether it would be a better idea to hire internally or work with an agency to manage the social media marketing efforts of your company.
If you are deciding what might be best for your business, consider some of the points below which explores the benefits of working with a social media agency.
Greater Creative Potential
Social media agencies are often operated by a group of professionals who may have already established their expertise. Given that an agency can have multiple talented individuals working together, this allows for collaboration with one another to generate creative and unique ideas for the clients that they work for.
Typically, an agency assigns a social media manager to handle a client's social media accounts. While a social media manager often facilitates the social media marketing campaigns for the client, being part of an agency means that a social media manager can work with other team members to deliver better content that will further align with the goals of the business.
Better Value
In the context of smaller companies, some opt to hire a marketing coordinator who manages every aspect of the business's marketing efforts. While in some cases, this may work, but the possible drawback from this is that these efforts may not be utilized to the best capacity. Think of it as like hiring someone with the intended role to cover more than one position, it's essentially following the old saying of "jack of all trades, master of none."
Smaller companies who may not have the funding to hire someone to manage their social media marketing efforts can always turn to agencies where there can be a lot of considerations offered to work with the client's budget. This in turn creates better value for the company as it is hiring an agency that specializes in social media marketing, while also not having to commit to hiring an employee which would likely be a greater expense for the company.
Flexibility
For companies that still have uncertainty in adopting a social media specialist, working with an agency allows for more flexibility as the terms in the contract can vary depending on the needs of the client. For instance, a company who wants to try working with an agency to see its effectiveness will not be tied down with that agency for very long durations.
On the flip side, flexibility can also refer to the creative capacity of the agency. Say that a company has a request to do a public relations initiative or a photoshoot, some agencies have members who specialize in a wide range of skills that could be utilized to meet the requests of a client. This flexibility may not be available for in-house marketers who are only designated to focus on a general marketing role.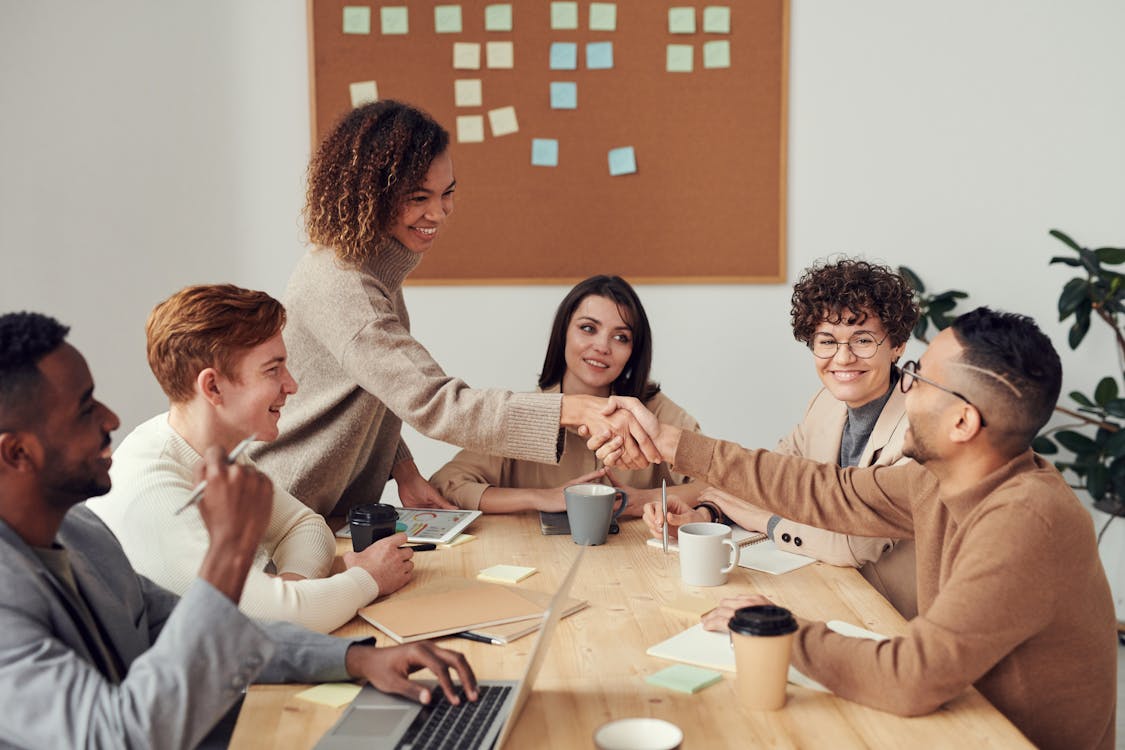 Working with a social media marketing agency comes with an array of benefits. Although having an in-house marketing specialist can have its perks, an agency can offer more bang for your buck.
At Qode Social, our social media experts can assist your business by creating a social media marketing strategy that will support the goals of your business. From content creation, to social media advertising, our agency takes pride in working with many different companies from various industries which has strengthened our expertise in social media marketing.
Qode Social is a Toronto-based social media marketing agency that specializes in community building, account growth, ad analysis, Facebook and Instagram support, and more. Led by experienced social media experts, Qode Social has worked with companies such as Gay Lea Foods, Days Inn Canada, TP-Link and more. Qode Social is a division of Qode Media, which is the parent company that focuses on SEO and graphic design.